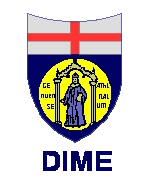 Marina Massei


Marina Massei completed her thesis in Genoa University, Humanistic Area on File Structures & Data Warehousing.
She had attended Postgraduate Courses in Project Management, Modelling & Simulation, Operational Management, Total Quality Management, Logistics.
She operates with the team of Prof. Mosca and Prof. Bruzzone, DIPTEM University of Genoa as project controller.
She participated in the organization of SIREN Courses. She was organizing the International USA/EU Educational Program IEPAL Meetings and she participated to the International Master Program LSMC involving 6 Universities in Europe (Italy, Spain, Germany, Sweden, Austria and Latvia) on Logistics and Supply Chain Management.
She is involved in the organization of International Scientific Events (i.e. Summer Computer Simulation Conference 2003-Montreal, 2004-San Jose', 2005-Philadelphia) and in the coordination of Technical Council specialized in Advanced Techniques (i.e. SIMPLEST); she is member of the International Program Committee of major M&S Conferences and she was appointed in strategic roles such as Session Chair, Track Chair, Program Chair and General Chair (i.e. HMS, MAS and I3M); for instance she served as Chair for Applications in Management, Planning & Forecasting Workshop in 2004, 2005, 2006 SummerSim in San Jose', Philadelphia and Calgary.
She is Associate Director of the MISS Center located in Perugia University.
She teaches special seminar on Problem Solving, Project Management, Data Analysis and Team Working for undergraduates and postgraduates in DIPTEM Organized Courses.
She was Finance Control & Administration Director of MAST. She is currently enrolled in DIME University of Genoa as member of the Simulation Team of Prof.Agostino Bruzzone. She is certified as NATO CAX Operator and attended course in Strategic Analysis.
---
References
Marina Massei, Savona, Italy
DIPTEM University of Genoa, Savona Campus
via Cadorna 2, 17100 Savona, Italy
Tel +39 019 219 45 251 - Fax +39 019 219 45 265 / +39 010 317 750
Email massei@itim.unige.it
URL http://st.itim.unige.it/liophant/memb/marina_massei.html

---
Return to the MIPET